2006.08.10

"9 planes bound for the US..."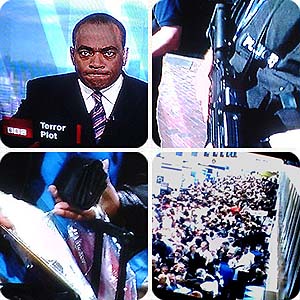 Today at lunch when I randomly turned on the TV I saw something I really didnt want to see...
Once again we had a terror attempt of an enormous scale here in London... luckily it got stopped in time and 24 suspects have been arrested.
Seeing all the poor civilian travellers today at Heathrow totally broke my heart... All of them having to put all their absolutly needed handluggage into plastic bags fully visible to others and leaving items like cellphones in the check-in luggage. Total chaos... Surrounded by heavily armed police... I wonder how the airport security will be changed after this... and if it will ever end...

x
o

x
o