2006.09.14

"Stockholm day 2"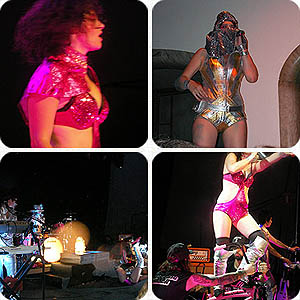 I'm sooo impressed...
I saw the best live show in a looooooooong time tonight!

PEACHES

! Thanks to my sis and her boi Victor who workes at Debaser! WOOOOOOOW! What a woman! What energy! What karisma!!!!!! Kyaaaa!! She's like a white lil Kim but fused with electro beats and in my opinion more attitude! And wilder! ;) I gotta get her albums! NOW! I also met Thella, a childhood friend, there by accident and a friend from high-school!! I was soooooooo happy to see them again! Thella and I have known each other from 1st grade in elementary school and we have a really creative past togheter! Those were the days! ;) hehe!

x
o

x
o