Name:

Daniel Anthony St. George 2nd
(a.k.a. AZStar78)


Age & Nationality:

27, American


Occupation:

Artist


Hobbies:

Sleeping


Likes: Hummus, Pho, Fake hot wings, Ahi Steak, Adidas, New York, L.A., Traveling, Girls, Sex, Drinks, Food, Food and Food


Dislikes:

Boys, Work, Red meats




Webpage:
http://www.azstar78.com




Carreer span:


Since 2001 till tomorrow:
I work in my small live/work studio. On my wall hangs art done by artists I am lucky to know. (errrc Deth P. Sun, Evah Fan, Kozyndan, Thought Ninjas, Zach Johnsen, Rika Sexerz, Skewille, Brendan Monroe, Little Friends of Print Making, Freegums). I have a long small black desk with nice black shelves above it that hold books and all my pens, paints, and other miscellaneous tools I use to make my art. I like to have the TV on as I work. I love noise lots of noise. Let it in and infect my soft brain.




My tools:


I do must of my work by hand, but I do have a computer. I love Japanese gel pens and Pilot Hi-tech C pens. I use white out, oil bars, oil markers, watercolor or anything you have to offer to make my work. I mostly work on wood and paper.



Software:


Adobe Photoshop CS2
Adobe Illustrator CS2
InDesign
Freehand
Painter
Dreamweaver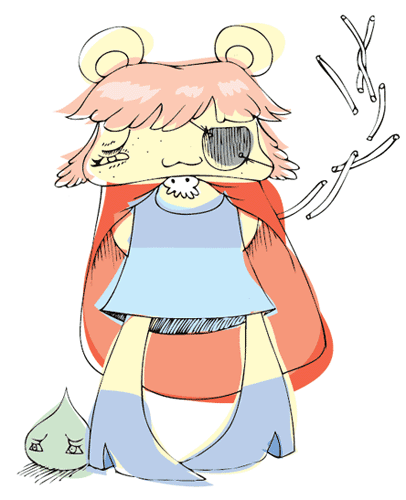 Kumako drawn by Daniel Anthony St. George 2nd!